Chronic Knee Pain | Post Knee Replacement Surgery
The typical chronic groin pain patient is someone that has had some type of surgery or trauma resulting in the pain syndrome. There are many nerves in the groin, lower abdomen, and proximal thigh that can be severed, damaged, or irritated with routine surgery or trauma. This can result in either a Neuroma or a nerve compression.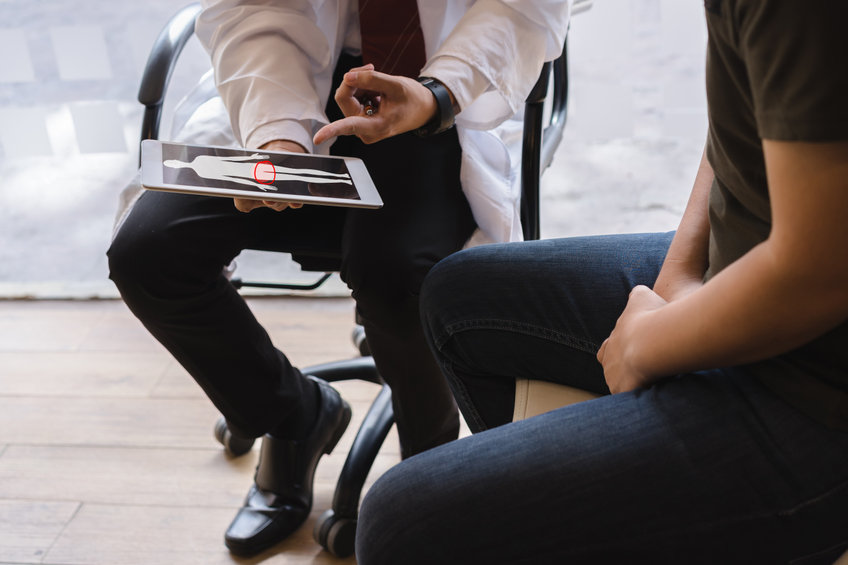 Post Surgery chronic groin pain may result from hernia repair, cesarean section or any abdominal surgery.
Post Trauma chronic groin pain can be a result of a sports hernia, groin pull/injury/crush or penetrating trauma to the groin or hip region.
Common complaints are shooting, stabbing, and/ or throbbing pain numbness, or burning in the lower abdominal wall, and/or the lower pelvic area, the inner thigh area, the scrotum/testicle in men, the labia in women, the front and side of the thigh.
Patients may experience pain when performing normal daily activities such as: walking, kneeling, sitting, intercourse or climbing stairs.
Patients should first consult their surgeon or primary care doctor to determine if there are other underlying causes. Screening for recurrent hernias or other problems in the abdomen or spine may be recommended. A urological or gynecological evaluation can identify other potential causes such as tumors, infection, cysts, endometriosis or urinary blockages.
There are non-surgical treatment options for groin pain. Medications or cortisone injections may be prescribed as first line treatment. These treatments are typically administered by a pain management specialist. Additionally, varying your activities and avoiding those that require twisting the torso or flexing the hips may provide relief.
A comprehensive evaluation including diagnostic nerve blocks will help to determine if you are a candidate for groin denervation or decompression surgery. Selective nerve blocks are used to determine which sensory nerve(s) are causing the pain. This is done by injecting the area surrounding the specific nerve with a local anesthesia (similar to what a dentist would use.) The nerve block typically lasts several hours and allows the patient to see how they would feel after surgery. After several hours post block, the pain that existed prior will return. Patients that are otherwise in good health, and have appropriate responses to the local anesthesia block may be good candidates for surgery.
Surgery is an outpatient procedure averaging aproximately sixty minutes. A general anesthetic is required. Damaged nerves are excised, (removed or cut) and the healthy end of the nerve is relocated into a muscle. Compressed nerves are decompressed by opening tight fascial tunnels (not cutting the nerve). Some patients notice an immediate difference in their level of pain when they wake up in the recovery room, others may not see the maximum allievation of pain for as long as several months. After surgery, the patient is sent home and may resume normal activities other than heavy lifting for three weeks.
The most common risks associated with any type of surgical procedure include bleeding, infection and scaring. It is possible, but not probable that patients continue to experience pain or experience no change to prior pain level. In extremely rare cases, more pain may occur. If the pain persists, all original symptoms will as well. Unfortunately, some patients may continue to have pain or may not respond to the peripheral nerve treatment. These patients are often thought to have "centralized pain" which means their pain will not respond to procedures done on the nerve itself. Instead, these patients need the expertise of a pain management specialist.